Let's face it – background checking is time-consuming, frustrating and boring. Ask any recruiter what part of the job they'd be delighted if someone else managed it, and more often than not the background checking paper trail is the one offered up.
So a solution that automates the process, holds all data in the one place, ticks all the compliance boxes and stops your head from melting as you try to keep on top of every check for every candidate seems like something you wouldn't think twice about signing up for.
But just in case you are thinking twice, here are seven more reasons why your firm should have a digital background checking solution.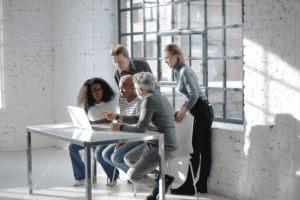 1. Positive impact on the bottom line
You might not think that sales and background checking are connected, but they are. That's because freeing up a recruiter's time gives them the chance to sell more. More sales, more revenue, stronger bottom line.
A digital background checking solution could save a recruiter at least 12 hours of admin per candidate. Imagine the impact on sales if every recruiter in your firm had an extra day a week to find new clients or sell more to existing ones.
2.  An advantage in the market
If you're still using spreadsheets and enduring the pain of waiting 4–6 weeks for references or supporting documentation, you're putting your firm at a disadvantage. A digital background checking solution enables you to place candidates faster. That's good for the candidates, good for the clients and means you earn commission faster.
Why wouldn't a client be drawn to an agency that can deliver candidates faster than other recruiters?
3. Maximises trust through compliance
The range of background checks that are required to ensure regulatory compliance keeps growing. They include:
Right to work and identity checking
Employment referencing
Degree qualification confirmation
Driving licence checks
Adverse financial checks
Criminal record checks, and
Confirmation of medical testing and vaccinations
With a digital background checking solution, you benefit from having all the documentation gathered and stored in one place making it easy to demonstrate to clients and regulators that you've met all compliance requirements. And you can sleep easy knowing all the boxes are ticked.
4. Attract more candidates
2021 candidates are digital savvy and want to deal with a digital-savvy agency. If they feel that your service is clunky or slow, they'll move on to another agency.  It's estimated that in recent years the number of candidates that fall out of the recruitment process before being hired has gone up by 20%. People expect a fast, efficient and candidate-centric experience built around digital engagement.
What would your candidates say about your service?
5. Improves agency workflows
The workflows in your firm are like the plumbing. All the pipes need to be linked and everything flowing well for maximum productivity and efficiency. With a digital background checking solution you can easily track what checks have been done, what needs to be followed up, and what documentation you have, and avoid wasting time searching through emails or folders.
6. Fewer plates to spin
Running a recruitment agency requires a talent for plate-spinning. There are over 20 areas you need to be across from the nuts and bolts of candidate placement and managing your team, to scanning for new trends in the market and keeping clients happy.
With a digital background checking solution, you'll have fewer plates to spin and be able to focus more on people and less on paper.
7. Low cost, big impact
There's a lot of talk about digital transformation these days. It sounds complex and expensive but it doesn't have to be. It's simply about using technology to make your processes more efficient and your workforce more productive. Start with streamlining the admin functions that are taking up most time, like background checking. With a modest spend you'll see a big impact.
---
SureCert's solution
From boosting your sales to delighting your clients and customers, a digital background checking solution will positively impact every area of your business and set your agency apart from your competitors.
With SureCert, you can set up a digital background checking solution in one day with no lengthy integration process, no start-up costs, no minimum spend guarantees and a monthly plan with no commitment.
Don't think twice about arranging a call with our team to find out how much you could save by using SureCert's Digital Background Checking solution.
---
Find out more about what SureCert can do for your business