In your new healthcare career, you'll hear a lot about "Bands" or clinical bands. This isn't some revolutionary new weight-loss fad! This is a system of pay-scales which the National Health Service (NHS) uses for most of its workers, and which the private sector often uses as a basis to set salaries and pay grades. This system is known as the NHS Agenda for Change pay scales (or AfC system).
When implemented in the NHS across the UK in 2004, AfC was the biggest overhaul of NHS-wide pay, terms and conditions in more than 50 years.
AfC puts registered/qualified staff on bands 5–8 and unqualified staff such as Healthcare Assistants on bands 2–4. Band 9 posts are for the most senior members of NHS management.
Most jobs in the NHS are covered by AfC pay scales except doctors, dentists and the most senior managers. Each band contains a number of pay points and staff will normally progress to the next pay point annually until they reach the top of the pay band.
Essentially, the more experienced you are, the more you are paid. Once you reach the top of the scale you cannot progress any further unless you apply for a promotion, when you move to the next band.
Usually, you start your new banding on the same pay point as your previous role. So, using the table below, if you are a "top Band 5" earning £27,901 and you are promoted to a Band 6, you would usually continue on this salary until your next incremental date and then progress onwards through the Band 6 pay scale.
You do not need to be a the top of your pay scale to apply for a promotion. Have a look at the following example from NHS Agenda for Change pay scales in England: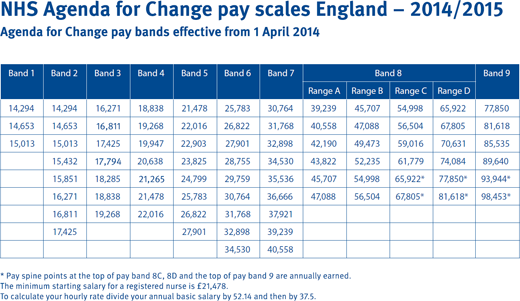 A part of the NHS staff got a salary raise recently. The NHS pay deal was formally accepted on 27th of June. This means an increase in the NHS staff paychecks. The changes started showing already at the end of July 2018.
What does "Banding" tell you about someone's job?
If someone is a "Band 6", what does this tell you about their role? There are a number of titles applied to nursing which can mean many different things, but the general roles and usual bands are set out in the table below:
Band 2
Healthcare Assistant
---
Band 3
Support Worker, Clinical Support Worker, Trainee Assistant Practitioner, Healthcare Assistant.
Usually, a Band 3 will have completed further training to allow them to undertake Clinical Observations and additional skills like Venepuncture, electrocardiograms, etc.
---
Band 4
Maternity Care Assistant, Assistant Practitioner
---
Band 5
Entry Level – Newly Qualified Nurse, Staff Nurse, District Nurse, Community Nurse
---
Band 6
Team Leader, Specialist Practitioner, Deputy Senior Nurse, Health Visitor
---
Band 7
Charge Nurse, Community Charge Nurse, Senior Nurse, Team Manager, Team Coordinator, Senior Practitioner, Specialist Practitioner, Advanced Nurse, Service Lead
---
Band 8A – Band 8C
Modern Matron, Service Lead, Nurse Consultant
---
Band 8d
Head of Services
---
Band 9*
Director of Services
However, there can be some crossover. For example, you may have a Specialist Practitioner who is a Band 6 or Band 7. Similarly, for a Lead Nurse, they could be a Band 7 or 8a/8b.
It all depends on the department and the role and if someone has completed additional training which allows them to use an additional or alternative title. Typically, someone in a Band 6 role will have a minimum of 2 years post qualification experience, and a Band 7 would have at least 4 years, but this can depend on role, opportunity, previous experience and postgraduate study.
The exciting thing about nursing is that the career options and opportunities are endless – before you know it you'll be halfway up that career ladder and looking for your next role!