Challenges
"Having worked in a large agency I was aware of the great deal of time spent on a variety of mundane tasks such as doing background checks on candidates," she says. "I was determined that when I set up my own agency, I'd streamline those processes and be able to respond to my clients' needs quickly and efficiently."
Background checking candidates can be a long and laborious process covering a lengthy list of checks from identity and qualifications, to financial, criminal, and right to work, which often takes weeks.
"Chasing references, pushing paper, hunting down the candidate to send her the right information – all of this was managed on a spreadsheet. That slowed up the process of getting people into work and getting invoices out the door."
In addition, there is also the issue of compliance. "Being able to ensure regulatory compliance is essential, so there is also a constant worry about whether all of the background checks could pass an audit from the client and their overall regulator."
Solution
The agency contacted SureCert through a recommendation from a friend who works in human resources in the health and social care sector. SureCert is the preferred supplier to Scottish Care and works in partnership with Care England. The company has also had investment from one of Scotland's largest recruitment groups, Taranata, which reflects the industry's belief in the product.
Confident that it is a tried and tested solution, the new agency got set up with SureCert straight away.
"SureCert turns a chore into something that is enjoyable. It has very quickly become essential to the running of my business, as it enables me to manage background checks, monitor progress and ensure that all information is available for auditing – all in the one place."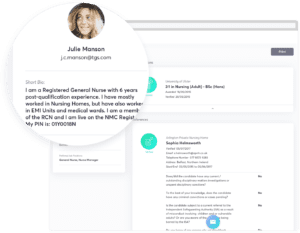 I chose SureCert because it is easy to buy, easy to use, has all the checks I will ever need in one place, and the pricing model is perfect for me.
                    CEO of the new recruitment agency
Outcomes
The agency has found that SureCert's automated background checking process has moved from being an asset to a competitive advantage. Getting references is much quicker than a manual system could deliver so candidates get placed more rapidly – it can save weeks of waiting around. This means they are less likely to drop out of the process before they get hired. In addition, candidates like SureCert's digital interface, which enables them to quickly confirm a range of checks and personal details.
Most importantly, the agency has differentiated itself from the competition. With the ability to onboard candidates faster, it can serve more clients and increase revenues without needing to add to the team.
"When I decided to go self-employed, I was determined to start afresh and use whatever digital solutions I could find to take the hassle out of my day and enable me to focus on candidates," says the CEO.
"I can process unlimited candidates, right to work checks and references for one monthly fee and then pay for additional checks like criminal record checks whenever specific clients need them. Moreover, I can relax knowing that all of the background check information is safe, secure and in one place."
---
SureCert's Digital Background Checking Solution
SureCert's solution is easy to buy and easy to use. We don't ask for large upfront payments, minimum spend guarantees or large, regular transaction fees. All the core functionality is available for unlimited candidates for a modest monthly subscription.
SureCert's solution has been proven to save over 12 hours of administration time on every candidate saving up to £200 per employee recruited.
Do you want to save time and money?
Why not book a meeting with our team to find out how much you could save by using SureCert's Digital Background Checking solution.
---
Find out more about what SureCert can do for your business