In recruitment, we can see the difference that it makes in having the right person in the right job with the right team.
Unfortunately, despite numerous advancements in technology, the reality is that finding and getting into work is as difficult as it was ten years ago. It seems that recruitment processes haven't changed much in the last decade.
Typical challenges for recruiters:
The majority of recruiters have to confirm a range of identity and work-related reference checks on each candidate registered; needing to certify that all professional references, skills, qualifications are accurate and up to date.
Getting proof of credentials, which are paper-based and difficult to trace. This takes a lot of time and diverts staff away from core HR activity, as well as slowing up the time it takes to place the candidate and invoice the client (for example, in Nursing it takes on average 78 days to get a nurse verified due to the manual nature of the current process).
Many recruiters use antiquated or paper-based systems.  A simple and cost-effective IT system is needed to maintain personnel and legal records, including the right for candidates to work in the UK.
There are challenges for job-seekers as well:
Applications are slow and time-consuming.
Everyone uses a different system.
Recruiters ask for the same information repeatedly.
At SureCert we have taken on the challenge of improving recruitment processes: reduce repetitive workload, increase efficiencies, increase security and increase accessibility of all the candidate information that is stored.
How do we improve recruitment?
Through digitisation.
To recruiters, saving time and money spent on admin will result in more candidates being processed and higher client satisfaction through faster turnover.
We have developed a savings tracker to assess the timing and costs involved in getting candidates registered and how much could be saved by digitising this process.
Savings Tracker for Agencies
1. Calculate the total cost for your recruitment consultants
Let's assume you have 5 recruitment consultants working at your agency, with an average annual salary of £30,000. This means a total cost per annum for all your consultants of £225,000.
Here's how we calculated this: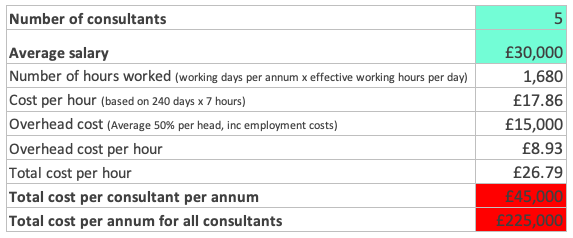 NB: for working days, we assume 240 as the number of days that a consultant is paid –including holidays– but then subtract non-productive hours
2. Calculate the total cost per candidate
In this assessment, we have identified and isolated the cost for the processing of each candidate, considering:
the cost of registering a candidate per hour
the time spent to verify all candidate information
Considering an average of 2 candidates registered per day and per consultant, the total cost of candidate processing per annum for each recruitment consultant would be £20,357.
Here's how we calculated this: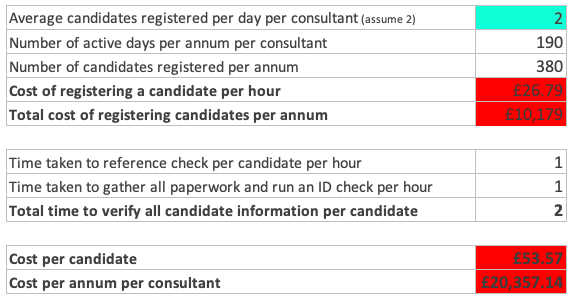 NB: through our research and focus groups with recruitment consultants, we have worked out an average time taken to get references, verify identity information etc. When using the calculator, allow a minimum of 1 hour for this task. We've found this is a good rule of thumb.
3. Additional income assessment for Agencies
Digitising recruitment doesn't just save you money, it can make you money as well. Your consultants will be freed up to generate further income rather than wasting time on admin tasks.
Check out our projections below:

4. SureCert costs
For the same number of consultants (5), you can have a digitised recruitment platform for £9,940 per annum.
This is how we worked this out:

5. Cost saving using SureCert
The most important part comes now. How much could you actually save by using SureCert?
We calculated the savings plus the opportunity cost would be £397,203 for an agency with 5 recruitment consultants. This represents an increase in efficiency of 177% of all recruitment processes. Not bad at all…!
Check out how we calculated this: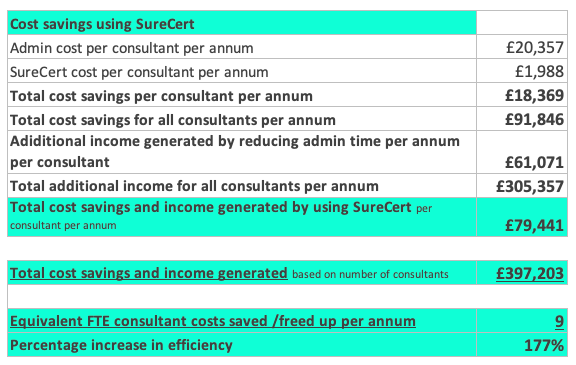 Of course, every agency is different, so we invite you to tell us your number of consultants and the average salary to calculate your own savings. We will then send your personalised assessment for free.
Additional benefits of using SureCert
In the savings tracker, we haven't quantified the collateral benefits of digitising your recruitment processes with SureCert. In addition to saving you money, SureCert also benefits your organisation in the following ways:
Average 20% income increase in placing candidates faster
Increased Candidate satisfaction at SureCert process
Potential to attract candidates with existing SureCert profiles
Consultant satisfaction at being freed up to generate income
Attracting consultants who are focused on commission
Attracting new clients and positions due to better service
Increased efficiency and readiness for compliance checks and audits
Reduced onboarding times in placing candidate due to delays in verification
Before you go, it's worth considering the following:
Could your consultants sell more if they had more time?
Does onboarding and compliance take up too much of your consultant's time?
If you could place candidates quicker, would your clients use you more (perhaps exclusively as well)?
If you said "yes" to any of these questions, then talk to us! We are here to help, so please get in touch to receive your personalised assessment.