We launched a poll recently, and we found that getting references and collecting paperwork is the biggest pet peeve for candidates when it comes to applying for a job.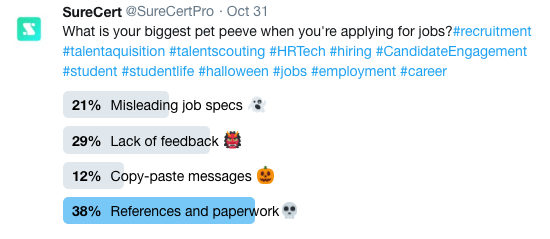 So, given the importance of reference checking, how can you gather good, verified references in a quick and easy way?
What does a good reference look like?
First of all,  what does a good reference look like?
The Scottish Care Inspectorate's regulations for safer recruitment in Health and Social Care, state that the following elements are key when it comes to references:
Any requests for references should seek objective verifiable information as far as possible and not only subjective opinion.
The job description should be included with all requests, and every request should ask about the referee's relationship with the applicant, e.g. did they have a working relationship and if so, what was it; how long has the referee known the applicant, and in what capacity.
Make sure that the reference is from an appropriate senior manager and it is not a reference from a former peer operating at the same grade.
Employers should have clear policies about what level of staff can draft and sign off references on behalf of the employer.
Use the reference to specifically ask about the issues of safety (previous disciplinary issues, dismissals, demotions) and any competencies which may be difficult to address through a selection process (e.g. team working; tenacity; adherence to regulatory codes of practice). Your references should definitely include a check with previous employers'.
You should seek a minimum of two appropriate and relevant references, one of which should be from the current or most recent employer (if they have been previously employed). If this is not possible, you should be satisfied there is a good reason for this and record why in the personnel file.
It is ok to receive references by email, even where there is no "e-signature". It's your responsibility to ensure the authenticity of the referee and to give the Care Inspectorate access to these references upon request.
All references, paper or email, must be stored securely. SureCert provides a secure place to store qualifications, references, and certificates online. Moreover, they are always accessible to the user.
Faster digital reference checking
SureCert enables the candidate to verify and store their references digitally and satisfies all the requirements above.
Using SureCert:
you can quickly and securely get your references verified by your referees, helping you to get into work faster.
Verify your references just once and store them securely for life.
Have a look at how a candidate can request and verify a reference on SureCert, just with a smartphone:
Why not give it a try? Get SureCerted and get in to work faster!
Once you have set up your SureCert profile and you are registering with recruitment agencies or applying for jobs, be sure to tell your recruiter that you have a SureCert account 😉
If you are a recruiter, look at the benefits of using digital references and digitised candidate profiles.
Let us know if you have any questions.