At RCN Congress we were kept busy talking to candidates about SureCert. Several times I was asked how to build a top-notch SureCert Profile to help to get you noticed by employers and to get in to work faster.
I asked our employers and recruiters what they needed to see to effectively shortlist for the best roles and to reduce the wait time to start work to as long as it takes to run a background check.
Based on what they told me and my own industry experience, here are my top tips on how to build and curate your perfect candidate passport on SureCert.
What we call the SureCert candidate passport: a CV which can include information to prove identity, verify your references and securely upload any documents needed for background checking and compliance.
Detail your job title
First and foremost, make sure you fill in all the sections in the profile section.
How can an employer offer you that dream job if they don't know what role you're looking for? Don't be shy and add your wishes!
You will also need to put some contact details on to your profile. You can choose how you'd prefer to be contacted too.
So, you want to make sure all these sections are populated:
Bio
Job title
Contact Number
Address
Write a Killer Bio
This is the section where you get to tell the employer how hands-down awesome you are.
Useful tips!
Talk briefly about your skills and experience, your qualifications, what qualities you can bring to a role, and the job that you are ideally looking for.
You can also add your Professional Membership or Professional Registration number. For instance, your NMC PIN and your NISCC Registration number or equivalent HCPC, PSNI, GPhC code if you work in the healthcare sector.
If you add all these in this section, you will be showing to employers what is your role and that you are a registered professional.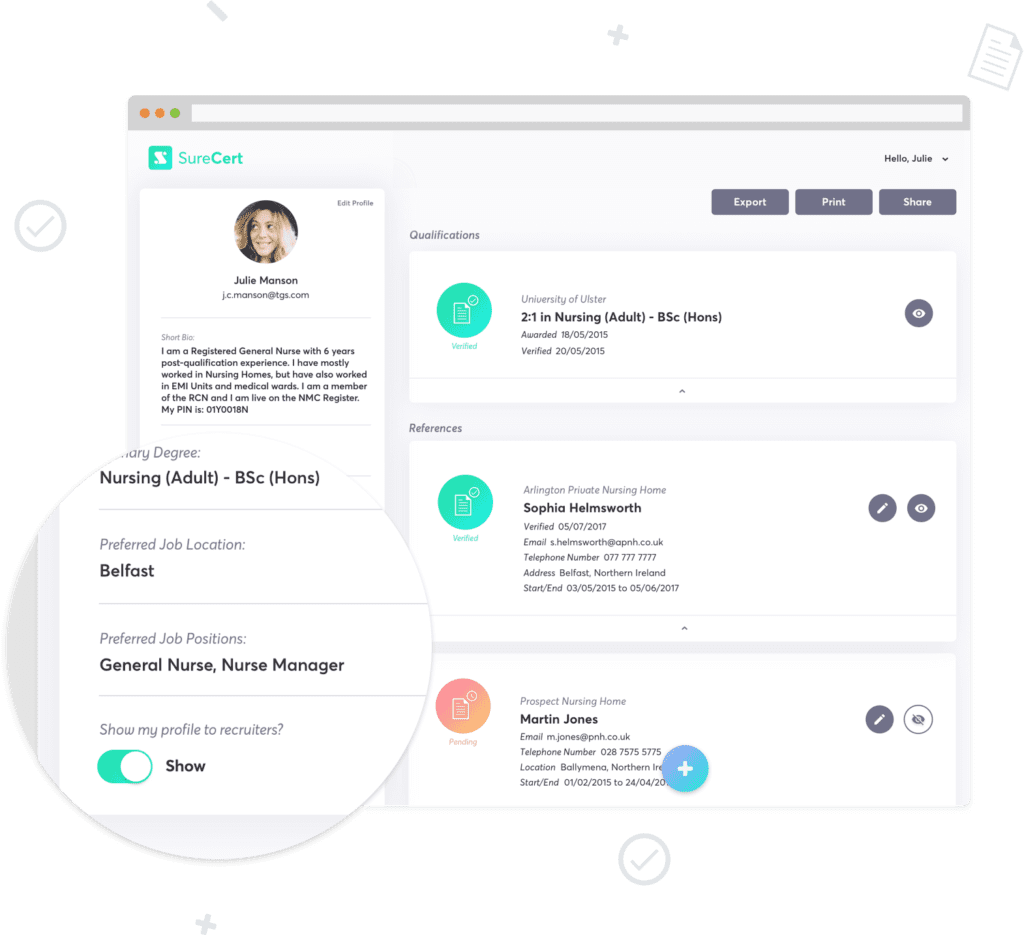 Prove your Qualifications
Contact your University or College and ask them for digital evidence of your degree, diploma or even your QCF/SVQ/QQI (depending on what country you studied in).
You can also request digital evidence of additional qualifications you have completed, for example, any postgraduate qualifications can be stored here.
One of SureCert's main selling points is that it stores verified data and reduces qualification fraud. You may have heard of GDPR? Part of the new measures it brings with it means that you can request data held on you in a digital form.
And SureCert is the perfect place to store this, either by integrating with your University or, in the meantime, you can capture all these qualifications by using your smartphone and capturing them right away with our "Add certificate" feature.
This is how we do it!
If you are a student or graduate of Ulster University you are in luck: we already launched our integration with them so we can automatically verify your degree!
Make it Mandatory
Employers need to ensure that workers have completed a number of Mandatory Training modules before a worker can start work. If you have already completed some or all of the training required, and your training is still in date, you can also request digital copies of your Mandatory Training certificates.
As a recruiter finding a suitably qualified candidate was a great start. Finding one who had also recently completed their mandatory training – and could evidence this – was the icing on the cake.
If you have completed any of the training required, and your training is still in date, you can request digital copies of your Mandatory Training certificates and add them to your SureCert profile. It is as easy as this:
Don't be an Anti-Vaxer
For most healthcare jobs you need to evidence your immunisation history.
If Mandatory Training is the icing on the cake, then a full Immunisation History is the cherry on top of the icing!
This is not just, as many people think, to show that you are protected from catching anything nasty from your patients (in the case of your Hep B, for example). It is also about protecting vulnerable patients from catching anything nasty from you, like chicken pox, measles or TB.
Most healthcare professionals will have received their vaccines while at university, or in their first NHS role. You can contact these organisations to supply this information in digital form directly to SureCert.
If you have paper printouts, you can add these to your profile in the short term using our handy upload certificate feature (see Capture Additional Information). If you have a current Fit to Work Certificate (required by on-contract agencies), you can also request this from the Occupational Health service who supplied it.
For most roles, you need to demonstrate immunity to TB, Measles, Rubella, Varicella (Chickenpox and Shingles Virus) and Hepatitis B.
If you're thinking of changing jobs in the future and you know you haven't had all these vaccines, speak to your GP for advice. Having this information available to your prospective employer may mean you can get in to work faster!
Verify your References
Many contracts or regulatory bodies require references which cover at least the last 2 years of your employment history, and some require 5 years.
When trying to start someone in work, references were the bane of my life!
In some cases, you may also have to provide a reference from your most recent NHS position. It is not unknown for a recruiter to have to request up to 4 references before commencing the worker in to their new role.
With SureCert, you can pre-request your previous references in preparation for an employer which means that even more time is saved in the on-boarding process. They will be verified by your Referee and stored in your profile for life.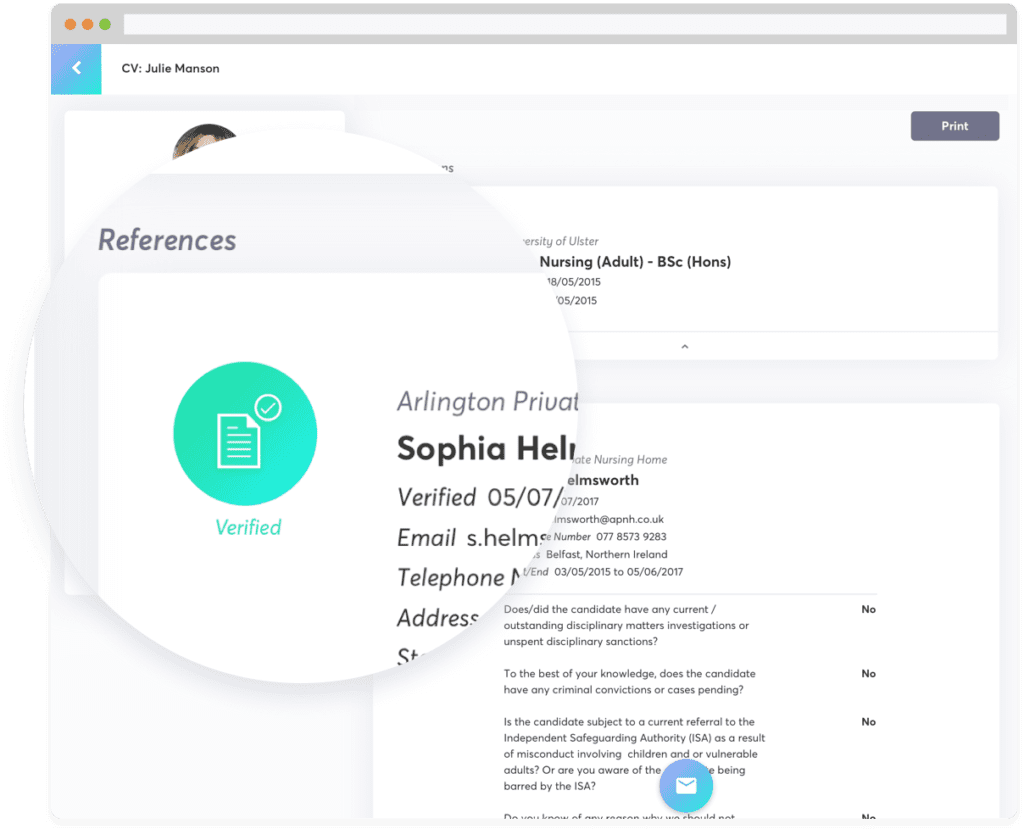 Students can request references from their mentors at the end of each placement, building an evidenced portfolio of your time spent at university or college. And these references are often vital for your first graduate role. Having them already on your profile means that an employer can see the areas you've experience in and can offer you roles matched against that experience.
SureCert references are quick and easy to request using just your mobile phone so start the ball rolling now and get on the road to employment.
Capture any Additional Information
If there's something else you want to add to your profile, SureCert has a handy "catch-all" certificate upload feature. You can quickly and easily add documents using the camera function on your phone.
It's so easy I can even do it! 😉
This is a great place to add your CV. Employers in regulated sectors, like Nursing, need to have your full employment history on file:
from the day you left full-time education.
Get your CV written up with your exam results, schools and further education institutions attended
and details of ALL the jobs you have ever done and save it here.
Your prospective employer can view it online and print it if they need a paper copy.
Get SureCerted: let Employers find You and start work faster!
Any queries or questions with this, or if you need some help and support with finding out how to get your information, or with Immunisations and Occupational Health, please get in touch!