Who is the team behind SureCert?
Meet our team members: from Management to Tech, Sales and Marketing.
The team is growing, so keep an eye for new appointments in the following months 😉
Ian Savage – Founder & CEO
Prior to investment in SureCert, Ian built up and sold a training recruitment consultancy; worked in strategy and HR Consultancy in Deloitte and PA Consulting Group; and founded Belfast-based development consultancy, CDS Consulting, in 2007.
My motivation for creating SureCert was because I was just fed up with the amount of paperwork and delays in the traditional recruitment process.  I am obsessed about simplifying and speeding up processes and there is no better way to do it than through digitisation.
His considerable experience across HR, strategy, IT strategy and innovation consultancy has been key to developing the SureCert platform and securing investment.
The overarching strategy, devised by Ian, will see him lead the team to achieve an environment where all recruiters, employers and potential candidates or job seekers can find each other quickly and cost-effectively through use of the ubiquitous SureCert technology.
In a previous life, Savage was a scuba dive-master as a hobby.
Ian holds three Masters Degrees – MBA, MPA, MA (Hons) – and is an Affiliate Member of the Chartered Institute of Personnel and Development (ACIPD).
Gareth Clarke – CTO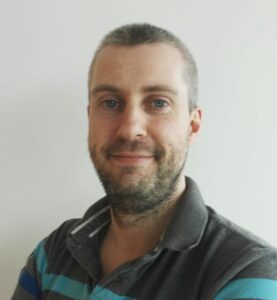 Gareth's experience spans multiple verticals including education, insurance, telecoms, Internet of Things (IoT) and financial services.
His technical experience ranges from product management, delivery management and solution architecture, to technical leadership.
As CTO at SureCert, Gareth will determine how technology can be used to implement the business strategy, as well as leading the development, integrating, and running the SureCert platform.
Previously Gareth has largely focused on the development of large-scale distributed systems; the migration of systems to the cloud; and the integration of products into vendor infrastructure. A strong advocate of Agile, DevOps, and software architecture best practices, Gareth holds a BEng in Computer Science from Queen's University Belfast.
Niall Corr – Software Engineer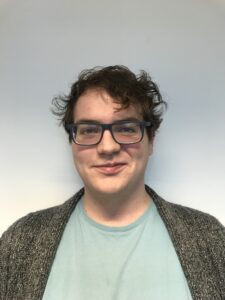 Niall is a recent graduate with first class honours from Teesside University's Game Programming course, with a year placement in the games industry. He is experienced in 3D graphics programming, gameplay scripting and UI programming, and is eager to develop skills in cloud-based web development at SureCert.
Polly Adgey – Nurse Advisor and Business Development Lead
A Registered Learning Disabilities Nurse (BN Distinction), Polly has 14 years post qualification experience and over 20 years' experience in the Health & Social Care Sector in Scotland, England and Northern Ireland.
With extensive NHS experience as well as within the voluntary and independent sectors, Polly has worked in both adult and children's services, with offenders in the community and inpatient services.
Her knowledge encompasses a range of health needs including frail elderly, acute and chronic mental ill health, epilepsy, learning disabilities, autism and physical health needs.
Prior to joining SureCert, Polly has worked in the Health and Social Care Service Management, latterly in the Recruitment and Domiciliary Care Sectors.
She set up and ran her own training business working with small, medium and large organisations to ensure staff training needs were met.
Always keen for a new challenge, Polly will make the most of her previous experience whilst developing new skills working as Nurse Advisor and focusing on business development at SureCert.
SureCert's vision & mission
Our vision is a future of work where all players can find each other quickly and cheaply to realise career opportunities, with built-in trust achieved in advance through the innovative use of our ubiquitous technology.
So, our mission is simple:
To create a frictionless future of work.
This mission involves:
Accessing as much formal data relevant to the labour market as quickly as possible and in partnership with educational, membership bodies and employers;
Becoming the global brand for digitised background checking and identity verification;
Employers and recruiters, through a monthly or one-off charge can use the system to verify candidates and access dynamic labour market data; and
Developing our dynamic store of verified labour market information in a way that can spark innovation in both new sectors and with new products relevant to job seekers and employers.
The SureCert culture
So how is it to work with us? Like our platform, at SureCert we:
Value keeping things ridiculously simple;
Are human-friendly and client-focused because innovation and technology are not just for robots – our platform has been designed with support from end users;
Add a pinch of creativity in everything we do, bringing "big picture" ideas to life in a commercial way in the shortest possible timescale;
Keep an open mind to new stimuli so we can always learn something new, or see new opportunities in new markets for our product;
Help our team and clients to identify and realise their potential; and
We enjoy our work and encourage others to do the same. Work has to be fun!
To get in touch with any member of the team, please send an email or call us on +44 (0) 28 907 37871.