According to BBC Wales, and as has been widely reported, post-Brexit there will be an even more significant need for doctors and nurses in the NHS due to staff shortages. Even with current domestic recruitment efforts, staff will need to be recruited from abroad. Currently, 1 in 7 of the 700,000 registered nurses and midwives were trained in a country outside the UK. Vacancies for nurse and midwife posts continue to be at a historically high level with 34,700 vacancies advertised in the first quarter of this year.
In a large part, these shortages have been of the government's own making;  reflecting a lack of coherent national workforce planning and funding, exacerbated by a migration policy regime that has severely dented the UK's ability to recruit nurses and other health professionals from other countries.
"The Triple Whammy"
James Buchan, writing for The Health Foundation reports that the recent drop in international recruitment does not reflect a lack of recruitment interest from UK employers. It is the result, he says, of a "triple whammy":
The 'hostile environment' approach from the current government to UK immigration, which prevented many non-EU nurses and doctors entering the UK to practice, and which has now been suspended after a campaign led by the British Medical Journal;

Controversial changes in the regulatory requirements for English language testing (now partially reversed);

And the Brexit vote in mid-2016, after which there was rapid decline in the number of EU based nurses registering to practice in the UK. (Credit – The Health Foundation )
However, there is hope…
Overseas recruitment
In June 2018, the UK government reported it was going to relax immigration rules in order to allow doctors and nurses from outside the EU to work in the UK. This should help to ensure the flow of new workforce into the UK even after Brexit and additionally help to decrease the staff shortage. According to The Home Office, foreign medics will be excluded from the governments' cap of skilled immigration.
Visas and Skilled Migration
Currently, Tier 2 Visas are used by employers to bring skilled workers to the UK from outside the European Economic Area and Switzerland.
From 2011 until 2017, there has been a cap on the amount of these visas given out. Up until recently, the limit has been exceeded only once in 2015 but this year it has already been reached several times. This is wholly due to the demand for NHS workers. These workers make up to 40% of all the Tier 2 Places.
Changes to English Language Testing
Latest figures from the Nursing and Midwifery Council (NMC) show an 86% increase in the number of nurses and midwives joining the register from outside the EU in the past three months. This is believed to be due to recent changes to NMC processes, including which English language qualifications are accepted. The Occupational English Test (OET) is now recognised alongside the International English Language Testing System (IELTS) language test. Additionally, the NMC will also now accept evidence that a nurse or midwife has been trained and examined in English or that they have practised in an English-speaking country.
There have also been recent changes to the four-part practical assessment for nurses and midwives trained outside the EU, meaning applicants are now only required to re-sit the parts of the exam they fail rather than all four parts. This makes it more affordable to resit and means the resit process is faster -speeding up the entry to working in the UK.
And there are further changes to come for overseas applicants – nurses and midwives from outside the EU will be able to apply to join the register immediately after qualifying rather than having to wait 12 months.
Workforce Planning
Some commentators have suggested that the UK should invest more in training its own medics and nurses instead of hiring from abroad. While this is a valid point, it potentially only solves the long terms issues but does not manage the short-term crisis. The Department of Health and Social Care in England has recently announced a new advertising campaign promoting nursing as a "worthwhile career".  This is a great start. However, according to James Buchan, what is required is a joined-up and strategic approach to international recruitment of health professionals involving government health departments, the Home Office, regulators and employers, and be embedded in overall national health workforce planning.
Improved Recruitment
In addition to, or as part of, workforce planning, the recruitment process also needs reviewing. According to Anita Charlesworth the director of research and economics at the Health Foundation:
"Without EU nurses, it will be even harder for the NHS and other employers to find and hire staff. Making the actual recruitment process flow better and skipping unnecessary steps will become very important." In other words getting a qualified nurse or doctor in to work quicker, regardless of where they are from, will be what makes the difference in managing the issues currently inherent in healthcare recruitment.
Recruiters facing the difficulties of staff shortage often also have to deal with a long recruitment process. However, recruiters using SureCert's services are already ahead of the game – "skipping unnecessary steps" by finding candidates with pre-verified CVs. This more advanced, connected and real-time recruitment process will become the future trend, and the employers and recruiters using it will be the leaders in their markets.
How does SureCert make the current recruitment process faster?
SureCert helps you "skip steps" in the current recruitment process, making it quicker and more secure.
1. Bespoke Search
Recruiters can search for pre-cleared, verified candidates that match the criteria they are looking for via SureCert's advanced, bespoke Candidate Search.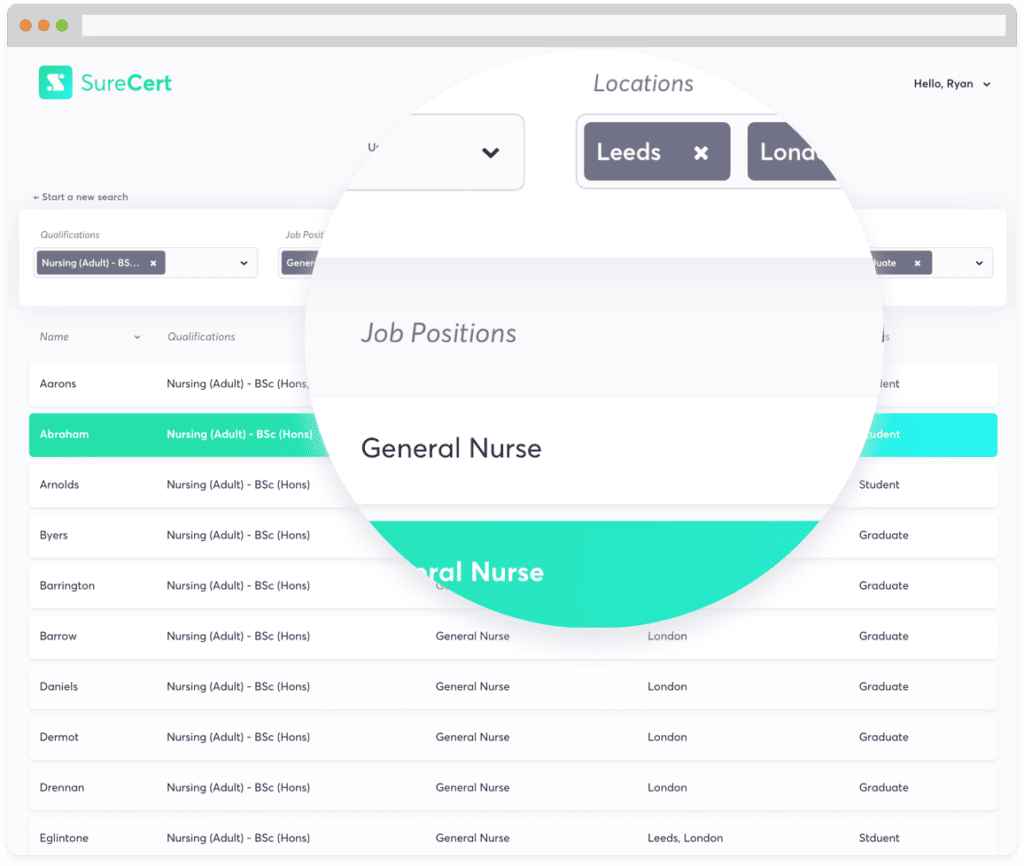 2. Target Candidates
Using the SureCert Candidate Search, recruiters can filter and target candidates who are suited for the role they are looking to fill.
3. Access to verified CVs
With SureCert premium, recruiters have full access to candidate CVs and can easily view verified candidate qualifications and references.
4. Verified References
SureCert deals with verifying candidate references so recruiters don't have to, helping to save time and money.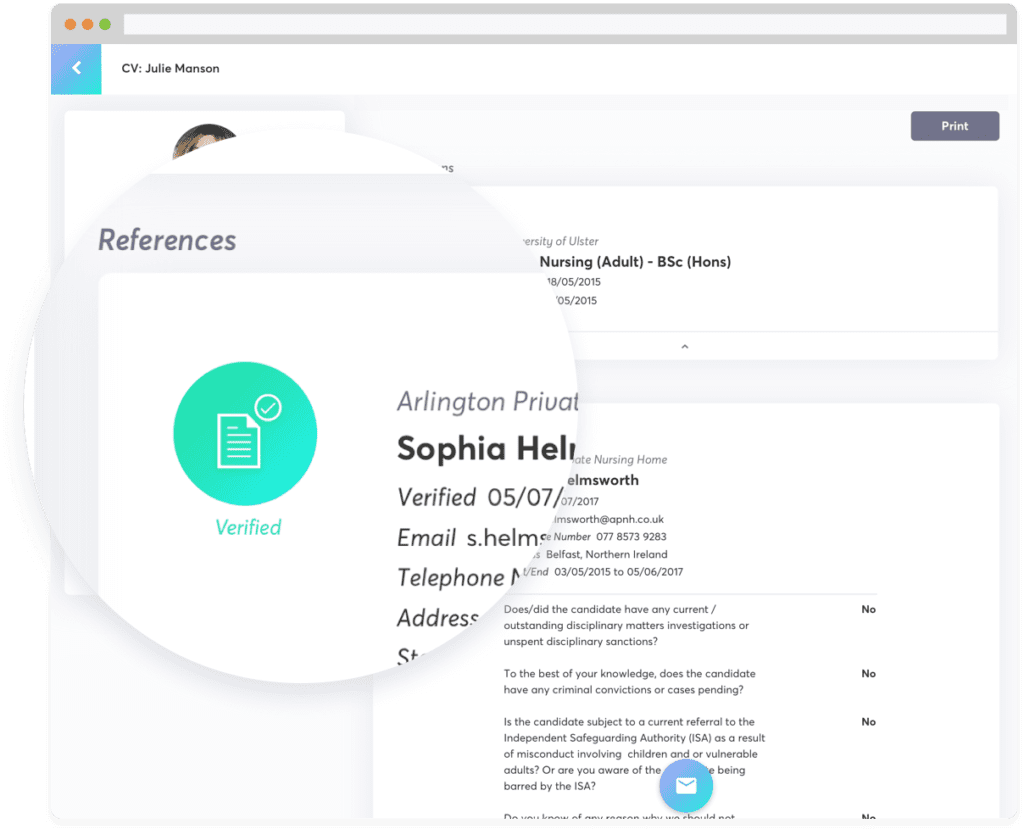 5. Contact Candidates
SureCert premium allows recruiters to get in contact with suitable candidates via email.
6. SureCert Associates
We collect data directly from universities, private training companies, awarding organisations and membership bodies. This way, we connect the labour market needs and skills to the education and training organisations.
Impressive isn't it? SureCert supporting recruiters to manage the post-Brexit staffing crisis.
How can we help you?
Contact us here for more information. Or just register here.