2020 was a year like no other. Dominated by the COVID pandemic and the outcomes of Brexit, the year has seen unprecedented changes to working practices and business outlook. As we move further into 2021, it's prudent to reflect on how things have changed and what challenges face recruiters in the UK and Ireland.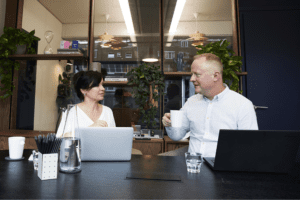 1. COVID has accelerated digital adoption
In May 2020, McKinsey reported that businesses had vaulted five years forward in digital adoption in around eight weeks. Since then, that trend has continued. From interviews to onboarding and background checking, processes have moved online and become automated. According to recent research from LinkedIn – 70% of recruiters surveyed said that virtual interviews will be a standard part of the recruitment process in 2021.
There's an urgency to do things differently in order to meet the demands of a changed world. But some smaller agencies are understandably anxious about the cost or difficulty of implementing digital systems. The key is to take it step by step, focusing on the systems that will have the most impact on the efficiency and success of your agency and controlling costs by using providers that offer flexible pricing.
2. Expected surge in demand for job placements
There's a strong feeling among recruiters that once the economy opens up again fully, post COVID, there will be a surge in demand for job placements. Agencies need to be ready to react and that means ensuring workflows are frictionless and efficient, strengthening and expanding your candidate pool and ensuring you are positioned to be able to meet the demands of your clients quickly.
Having automated systems, such as a digital background checking solution, will enable you to vastly speed up the time it takes to place candidates. That will keep your existing clients happy and get the attention of new clients keen to fill posts quickly.
3. Working from home is here to stay
The McKinsey Global Institute estimates that more than 20 per cent of the global workforce could work the majority of its time away from the office and be just as effective. The reality may be that a hybrid system will prevail with staff working at home for part of the week and in the office or on location the rest of the time.
Enabling your staff to work from home will be important to keeping them and their experience in your business. The more of your administration that you can do online through digital platforms, the easier it will be for your staff to work remotely while staying fully connected to the heart of the agency.
Eliminating the hard copy paper trail by implementing a digital background checking solution is one way you can empower staff to work effectively from home.
4. Dealing with the effects of Brexit
Before Brexit, one in four UK businesses employed European staff. How that figure changes over the next year will be interesting to see, but what is certain is that foreign nationals will continue to make up a significant percentage of the workforce.
One of the challenges to recruiting foreign nationals is carrying out a robust Right to Work check to confirm the applicant's identity.  That can be time-consuming, sometimes adding weeks to the recruitment process. A system that enables candidates to digitally upload documentary proof – such as driver's licence or utility bills – will be a real bonus for your business and your candidates.
Another big issue is the discussion around COVID vaccination passports, not just for travel but for work. You will need to keep on top of this and ensure you have systems in place to deal with it if the requirement for proof of vaccination becomes a regulation.
5. Attracting high quality candidates
This has long been a priority for recruitment agencies and has become more difficult with talent shortages in some sectors. Respondents to a Bullhorn's Global Recruitment Insights and Data survey (GRID 2021) say sourcing is the most challenging part of the recruitment lifecycle.
This means you need to be doing everything you can to attract the best candidates and part of that is making it easy for them to engage with you. Younger candidates, in particular, expect a digital interface right across the recruitment process.
---
SureCert's Digital Background Checking Solution
Every crisis generates innovation and we've had more than our fair share of challenges in the last year. Innovators in the recruitment sector will be the ones that reap the benefits of the changing landscape.
From boosting your sales to delighting your clients and customers, a digital background checking solution will positively impact every area of your business and set your agency apart from your competitors.
With SureCert, you can set up a digital background checking solution in one day with no lengthy integration process, no start-up costs, no minimum spend guarantees and a monthly plan with no commitment.
As a first step towards embracing innovation why not book a call with our team to find out how easy it is to implement SureCert's solution and how much it will save your business in administration costs.
---
Find out more about what SureCert can do for your business