Recruiters and employers frequently go through the process of background checking to make sure candidates are able to perform the role they are being hired or considered for.
This is an increasing trend to increase workplace safety and avoid fraud, which results in hiring quality employees.
58% of hiring managers said they've caught a lie on a CV. Source: 2014 CareerBuilder/Harris Poll survey
Continuous background checks are now easier to undertake  because more police departments and court systems are online, meaning that more data is available, and the technology to gather and analyze that data is much more sophisticated.
Even if a full background check is not necessary, there are elements of the candidate profile that should be verified, and securely stored for a compliance check or audit.
Basic checks include professional references and identity verification, as well as the right to work in the UK.
 An employer can be fined up to £20,000 if they cannot show evidence that they checked an employee's right to work in the UK.
Typically it takes time and effort to collect this information,  delaying the employee's start date and slowing down the recruitment process.
What does background checking involve?
Let's start with a definition:
Background checking is the act of reviewing both confidential and public information to investigate a person or entity's history. Background checks are commonly performed by employers to ensure that: (1) an employee is who he or she says they are, (2) to determine that the individual does not have a damaging history (such as criminal activity) that may reflect poorly on the company, (3) to confirm information that an applicant included on their application for employment. Extensive background checks can be expensive mainly due to the time and effort necessary to explore every item in a person or entity's history.
A background check is undertake with the individual's consent and involves screening key information that could affect a candidate's ability to perform a role.
Background information includes, but it is not limited to:
Employment history (through checking professional references)
ID verification or confirmation of the individual's identity (through Driving Licence or Passport, for instance)
Proof of address
Right to work in the UK
Educational qualifications
Professional status (eg. validation of directorships)
Criminal record information, sanctions (through the Driver Vehicle and Licensing Agency – DVLA database)
Credit history (eg. financial check through the Financial Conduct Authority)
With reference checking, recruiters have to verify information provided by the referee. Following up on references can be costly in terms of time and effort. Additionally referees may be asked on multiple occasions to provide the same reference for a past employee. This is known as reference fatigue.
In addition, highly regulated industries such as health, financial services, and the wider public sector, require numerous documents and verified information on a candidate often delaying start dates by anywhere from three weeks to six months.
How do we streamline background checking?
At SureCert, we are committed to helping recruiters to speed up the background checking process.
SureCert enables recruiters and employers to streamline background checking significantly by enabling the candidate to gather and manage their own information. SureCert can also be used as an internal staff compliance system. Once an employee has been recruited, employers can keep on top of staff's training compliance, proof of ongoing address, etc. For example in financial services, contractors need to have their addresses confirmed every three months.
SureCert can save hours of administration as well as weeks of delays.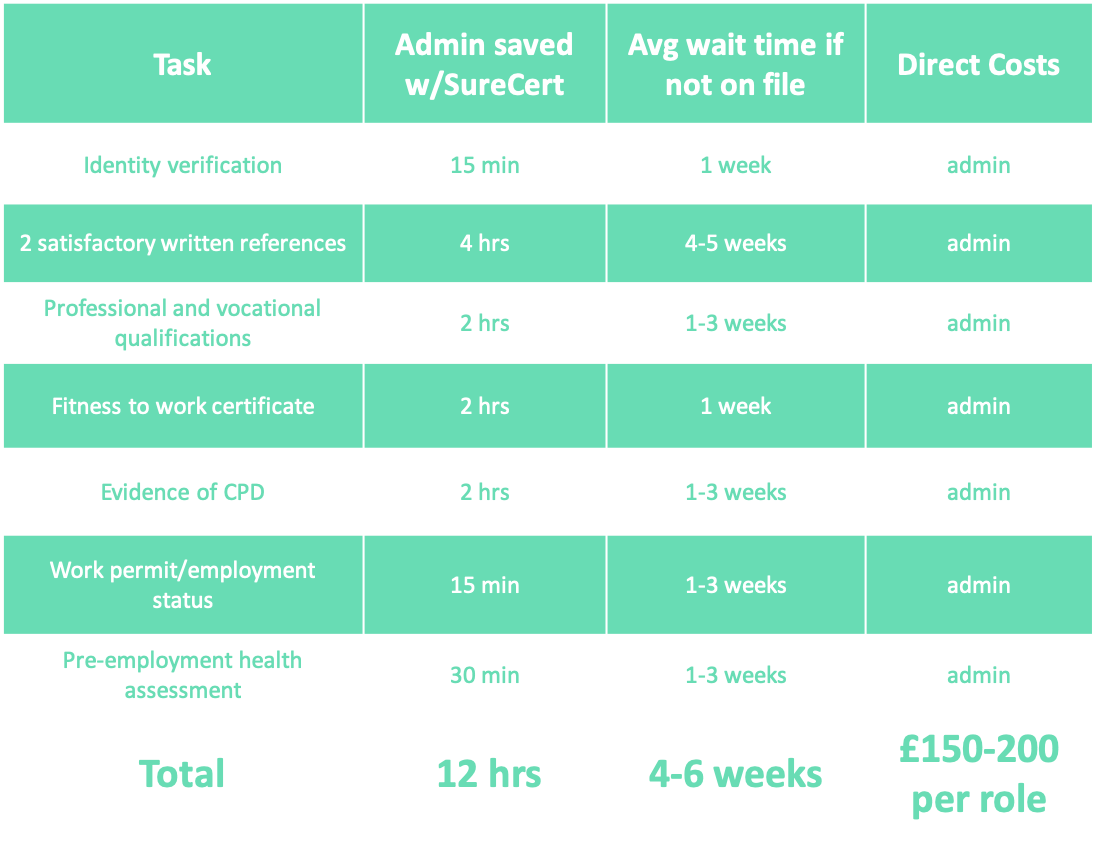 SureCert allows you to gather and access your candidates' or employees' background checking documents, easily. We integrate and store all elements of an individual's identity in one place, in an online candidate passport.
Candidates can add to that profile/passport a wide range of digitised and scanned information relevant to recruiters.
This information can be shared with potential recruiters or current employers.
SureCert Background Checking features
1) Secure online reference verification
With SureCert, the candidate requests the reference themselves, reducing admin time for the Company. They do this just once, so referees are not plagued every time the candidate is applying for a new job. Once verified, SureCert stores these in a way which the candidate cannot amend.
41% of candidates drop out of the hiring process due to issues with references alone!
2) Document upload
Not everything can be digitised and there is a lot of paperwork involved in meeting requirements for recruiting and managing staff. With SureCert, employees and candidates can store their background documents securely. They can upload documents simply by taking a picture with their mobile phone or by uploading a file from a desktop computer.
3) Confirm University qualifications
We can verify University qualifications and student status in the UK  (*additional charges may apply depending on the University).
Future developments
We are always identifying new ways of making SureCert better. Stay tuned, we will be adding an instant identity check very soon, including proof of ID with AI facial recognition and proof of address.
Get in touch if you would like to know more.